Wild Hogs in Florida
Let's face it, Feral swine also known as hogs cause tremendous damage to agriculture, including row crops, forestry, livestock, and pasture. Feral swine also causes great risks to human health, by harboring and transmitting diseases to people and pets and by causing collisions with vehicles. These animals have been aggressive towards and even attacked farmers, golfers, hikers, and picnickers. Aggression can be increased when they associate people with food because of handouts and improper waste disposal. According to a USDA study, wild hogs can be blamed for $1.5 billion in damages every year in the United States. Here in Florida, we can hunt hogs 365 days a year. Most of my hog hunting experiences have been in tree stands, however I have also ridden on a swamp buggy and ran the hogs with dogs. Some hunters kill hogs inside a trap enclosure, because it is illegal in most states to transport feral swine alive or sell the meat. The US Department of Agriculture does not allow wild pork donations directly to food banks due to swine brucellosis and the pseudorabies virus. Wild hogs occur in all 67 counties of Florida. They are found in a wide variety of habitats but prefer oak-cabbage palm hammocks, freshwater marshes and sloughs, pine flatwoods, and more open agricultural areas. The wild hog (Sus scrofa) is also called feral hog, feral swine, feral pig, wild boar, wild pig or piney woods rooter. This species is not native to Florida. However, resident populations have existed here for hundreds of years – they may have been introduced by Spanish explorer Hernando DeSoto as early as 1539. Unlike many animals which adhere to seasonal breeding, wild hogs, like humans, breed year-round, and piglets can be born at any time of the year, although births tend to peak in the spring and fall. A sow is capable of breeding at 6 months and can have 2 liters a year. Compared to other large mammals, wild hogs have a very short gestation period of about 114 days, and sows can have an average 4-6 piglets per litter. Wild hogs can be found in social units called sounders. Where I live in Central Florida, I occasionally see the mama with their babies eating on the side of the road searching for food. The most frequent question I get asked is, can you eat wild hog? The answer is yes! The hogs can be eaten for their meat, but you need to harvest and process them safely. Hunting wild hogs is a popular sport among hunters, as well as a population control method supported by wildlife agencies. Hog meat is a viable food source, though you need to be careful with it. To ensure safety, all hunters who dress hogs should wear gloves and clean any surface that is in contact with the raw meat or offal. All meat should be cooked to an internal temperature of 165° F, and raw hog meat should never be fed to pets. There is no season, no size or bag limits or restrictions on harvesting either gender, all this has made wild pigs the second most popular hunted wildlife in the state of Florida only behind the white-tailed deer.
By Nicole Varela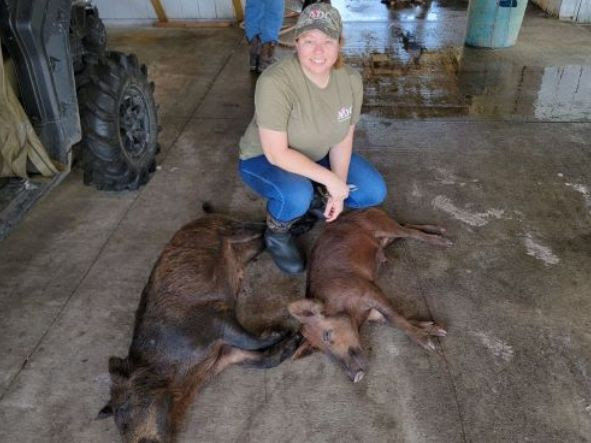 Congratulations!
Congratulations to the ADC ladies drawn for this years Turkey Hunt in Missouri at the Lodge at Circle J with Dan and Jan! It is the best time with the best people! April 2023!
New Scheduled Events
North Carolina Chapter is hosting the April 8th Guided FlyFishing for trout in Cherokee, NC!! Limited to 15 peoplehttps://urldefense.com/v3/__https://www.facebook.com/flyshopnc/__;!!AqzfjO0a!M52PeoU8_Qr0Q4afgwsCvOZkMaBQ2yDiJuGshuDPig88iws7mcj4sBxjVIxbDPUXOzTo81kKRvYk_lKctdVnOl3oPAw_$
He has waders, poles, and everything we will need. Don't need to bring anything equipment wise. We are estimating $75 – $105 per person for lodging to stay night of 4/7 & 4/8. This will be determined based on the amount of people who want to join Flyfishing will be about 4 hours on Saturday
$125 for to fly fish Saturday $50 deposit due by March 15th * this does not include food, licenses, transportation, lodging or tip for the guide. Guide: 
North Carolina is hosting a Coastal Seafood Forage Event!
$175 per person, 10 people max! Payment in full will be due by March 15th. All payments are non-refundable unless your position is filled.
If you have any questions please contact NC VP, Erin Riche Overnight trip to Cedar Island, North Carolina to educate participants on renewable seafood resources and local culture. We will be teaching the basics of clamming, crabbing, fishing, and other coastal foraging techniques. Overnight camping with tents, if participants don't have camping gear, it will be provided.
FL Fundraiser Update
A big Congratulations to Rachel Crosby for winning Florida's Turkey Season Bundle Raffle! This fundraiser raised $615.72 for Florida's upcoming Bat box Build!
Thanks to all who participated!